As part of our ongoing commitment to staff training the CSL team in Singapore have recently completed their OPITO approved BOSIET training (Basic Offshore Safety Induction and Emergency Training). This three day course covers both practical & theory and certifies the CSL team in Singapore for working offshore for 4 years.
The BOSIET training covers safety issues and regimes relevant to offshore installations, and equips our surveyors with the basic emergency response knowledge and skills for travelling to and from offshore installations by helicopter. This training includes practice exercises in fire prevention skills, work safety procedures, helicopter safety, basic medical knowledge and training in survival at sea.
Congratulations to the team, K Ramesh,  Andin Saifullah  & Mohammad Ziadz!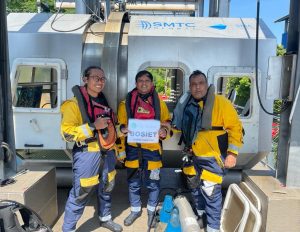 CSL Global Limited – Singapore
T: +65 3159 0590
M: +65 98162952
E: k.ramesh@cslglobal.com